Welcome to Our Service Department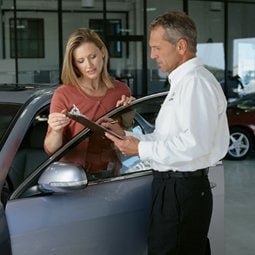 High quality services provided by the best Factory-Trained Technicians.
Our Dealership has the industry's best Factory-Trained Technicians along with using the highest quality Ford Genuine and Motorcraft Parts and the Rotunda high quality equipment to service your vehicle. Our Dealership is focused on one thing only...Your Complete Satisfaction.  Our customers prove it with the highest FIX-IT-RIGHT FIRST TIME scores in the area!
Hourly Rates From $49.95/Hour!
(Including: Brakes, Tune-ups, Alignments & most maintenance items)
CALL KENT CITY'S SERVICE DEPARTMENT TO SCHEDULE YOUR APPOINTMENT.
Low Labor Rate! Kent City Ford's hourly rate is the best in the area! While many dealerships and even some independent repair shops charge over $100 per hour, our hourly rate is much lower, averaging from $49.95 per hour for many maintenance items, to $78 for most mechanical repairs, and $85 for hi-tech electrical and diesel repairs. Allow our factory-trained certified technicians to take care of all your auto-service needs, the highest quality repairs at the best price!
Best Warranty in the business! Ford Motor Company announces the launch of a new warranty on Ford Genuine and Motorcraft service parts for unlimited mileage for 24 months from time of purchase or installation.
Click here for Ford/Motorcraft parts warranty statement.
We Service all Makes and Models!  Although we are a Ford dealership, we have no problem handling all makes and models.  If it has four wheels, bring it in!
State and ASE Certified! All our technicians are certified by the State of Michigan. Most also have the optional ASE national certification, an independent testing program with rigorous requirements to pass. Plus, all our technicians receive ongoing training and certification with Ford Motor Company, with two technicians achieving Ford Senior Master status (including the Service Manager), and two other technicians achieving Ford Master certification.
Decades of Experience! Although training and certification is important, experience is absolutely essential for quality repairs and service. Our service advisors and technicians have many years of experience, averaging over 20 years for most of them.
We are Your Truck Experts! Kent City Ford is your premier Ford Truck dealer, specializing in F-150 to F-550 service and repairs, with expert product knowledge and experience in 7.3L, 6.0L, 6.4L, and 6.7L PowerStroke diesel engine service. We also offer fleet discounts and quick turn-around for your work trucks. We know time is money, and will work hard to keep your trucks on the road. Maintenance is very important on today's modern hi-tech diesels, so let us help you sort out the details to keep your  Powerstroke  healthy and reliable. See Ford's Powerstroke maintenance tips here.
We are Hi-Tech Junkies! Today's vehicles are very complicated, with electronic control modules controlling many vehicle functions including electronic fuel injection, emission controls, anti-lock brakes, traction control, stability control, parking assist, blind spot information system, navigation system, hybrid technology, SYNC with bluetooth, all-wheel drive controls, automatic climate controls, electronically controlled transmissions, and the list goes on and on… We are experts at them all and actually enjoy the challenge of difficult to diagnose drivability and electrical problems! Bring it on!
Let's Talk Maintenance! Maintenance is very important for long vehicle life and minimum problems on the road, and retaining maximum value and enjoyment with your car or truck. Let us set you up with a maintenance plan custom tailored for your vehicle. Many auto repair facilities work extra hard to sell you a package of goods you may or not need. We work hard to suggest only the needed and recommended maintenance and repairs, and pledge to never sell you something you do not need, or pressure you into a hard sell situation. We have been in business here in Kent City for over 60 years serving the community, and bank on our customers trust and confidence. Find your vehicle's Maintenance Plan here.
Coupons! Please have a look at our coupons to help you save even more. See our Kent City Ford coupon page which offers discounts on popular services, rebates, and $5 off Motorcraft Premium Synthetic Blend oil and filter change. For other coupons and specials be sure to also check Ford Owner's coupon/rebate page. 
No matter where you call home, we would love to service your vehicle. Please fill out the form on this page to schedule an appointment. One of our friendly and experienced Service Specialists will contact you shortly.
CALL KENT CITY'S SERVICE DEPARTMENT TO SCHEDULE SERVICE.
Vehicle repairs/services performed at our Dealership:
Engine oil and filter change: The life-blood of every engine, get it changed regularly, every 3,000 to 5,000 miles for most vehicles. And of course, we use only quality Motorcraft Synthetic-Blend Oil and Motorcraft  filters. Multi-point inspection: Performed with every oil change, and always FREE!
WE SELL TIRES! Check out our tire prices: We guarantee the best tires, at the best price. Shop us and see!  All major brands including Goodyear, Firestone, General, Michelin, Dunlop, Continental, BF Goodrich, Perilli, Hankook, Yokohama and others.Tire rotation: the single most important thing to ensure long tire tread wear, perform every 10,000 miles. FREE ROTATION with tires purchased from us. Be sure to ask about current tire Rebates!
Brakes: Have your brakes inspected regularly, preventing unnecessary extra expenses, and also knowing when to expect pad or shoe replacement is a good thing. Brake inspections on most vehicles are FREE !
Battery: checked with every oil change and multi-point inspection, always FREE! If you do need a battery, installation is also FREE!
Transmission fluid flush/exchange: Perform every 3 years or 30,000 miles on most vehicles  to ensure long transmission life.
Cooling system service: Performed on most vehicles at 45,000 miles, every 30,000 there-after. Prevent major engine failures by having this inexpensive maintenance done.
Spark plugs: The almost forgotten maintenance! Yes, your car still has them, due on most vehicles at 100,000 miles .
Transmissions/transaxle repair, driveline and axles, overhauls or replacement, we will help you make the best repair decision for your car or truck.
Check us out for the best price on Ford Remanufactured Engines and Transmissions!
NOTE: Ford Remanufactured replacement gas engines and transmissions come with a 3 yr/ Unlimited mileage warranty!
Engine repairs, whether gasoline or diesel powered, we can handle it all, including timing belts, head gaskets, intake gaskets, water pump, diesel engine repairs, turbochargers, oil coolers, EGR valves and EGR coolers, fuel injector cleaning and replacement, emissions controls, PCM reprogramming, or anything else related to your powertrain!
Own a CVT equipped Ford vehicle? We at Kent City Ford are experts with the Continuously Variable Transmission (CVT for short) found in the 2005-07 Ford Five Hundred, Ford Freestyle and Mercury Montego.  Having seen replacement costs estimates from our competitors of  up to $6000, why risk taking your invest anywhere  else. In the event of a failure we have repaired these complicated transmissions for under $2000. SEE US BEFORE YOU REPLACE YOUR VCT OR THROW AWAY YOUR VEHICLE.  We also recommend a transmission fluid change and high pressure filter replacement every 60,000 miles for preventative maintenance.
Electrical and drivability diagnosis: "Check Engine" light on? "ABS" light on? We got the tools and the brains to figure out the toughest problems! We use the Ford IDS (Intregrated Diagnostic System) and Snap-On Modis to handle troubleshooting on any Ford or non-Ford vehicle. PCM reprogramming included.
Air Conditioning/Heater: Keep your cool in the summer and toasty warm in the winter. No matter the problem, we can fix it!
Steering, Suspension, Alignments: From ball joints, tie-rods, control arms, steering gears, rack and pinions, and complete four-wheel alignments, we got it covered!
D.O.T. Inspections.  Require a Department of Transportation Vehicle Safety Inspection? We can handle it! With prices starting as low as $69.95 have your annual D.O.T. inspection performed at Kent City Ford. Our full service dealership can perform this important service for you, and our factory-trained Ford technicians will have you back on the road in no time.  Don't risk getting pulled over and stuck on the side of the road, call us today to set up an appointment!
Specialty repairs for broken or blown-out spark plugs on the 4.6, 5.4, and 6.8 Triton engines without removing the cylinder head, using Time-Sert professional repair procedure. We've repaired dozens of engine using this procedure with a 100% success rate.
Accessories: See us for any Ford Accessory you may wish to install on your Ford car or truck, from running boards, driving and fog lamps, Ford OEM style remote starts, bug shields, mud flaps, spray-in bed liners, or for any other accessory you may desire, give us a call or check out Ford's Accessories here.
Thanks for checking out our Service web page! If you have any question or concerns, we would love to here from you! Call us or send us an email at kcfordservice@gmail.com.